Brought to you by the Citi Rewards+® Card.
Think of your typical day of spending: a coffee from the corner shop, gas for the car, a quick grocery store stop before you head home.
No massive splurges — just little, everyday expenses, right? But, with a rewards credit card, you'll find that they can help put your spending to work for you. When transacting with a rewards card, you can get a little something back, often in the form of rewards points for the purchases you make.
To make the most of using a rewards credit card, understanding how it works and the ways it builds up points is key.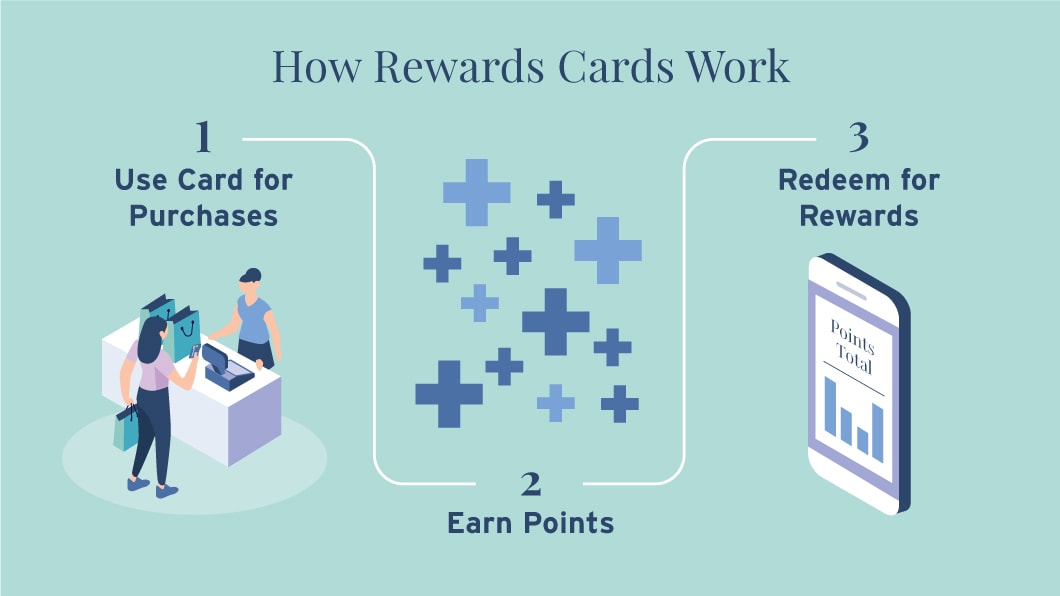 Rewards cards basics
In a nutshell: the purchases you make with a rewards card earn you points based on the amount and type of spending. Generally, the baseline earning rate is one point earned for each dollar you charge on the card.
Rewards points are parked in an account tied to the card's rewards platform. Through the rewards platform, and depending on the platform's offerings, points may be redeemable for goods, transferred to other loyalty programs, converted into cash or airline miles, gifted to others and more. Some card issuers even allow you shop directly with your points, such as through large online merchants.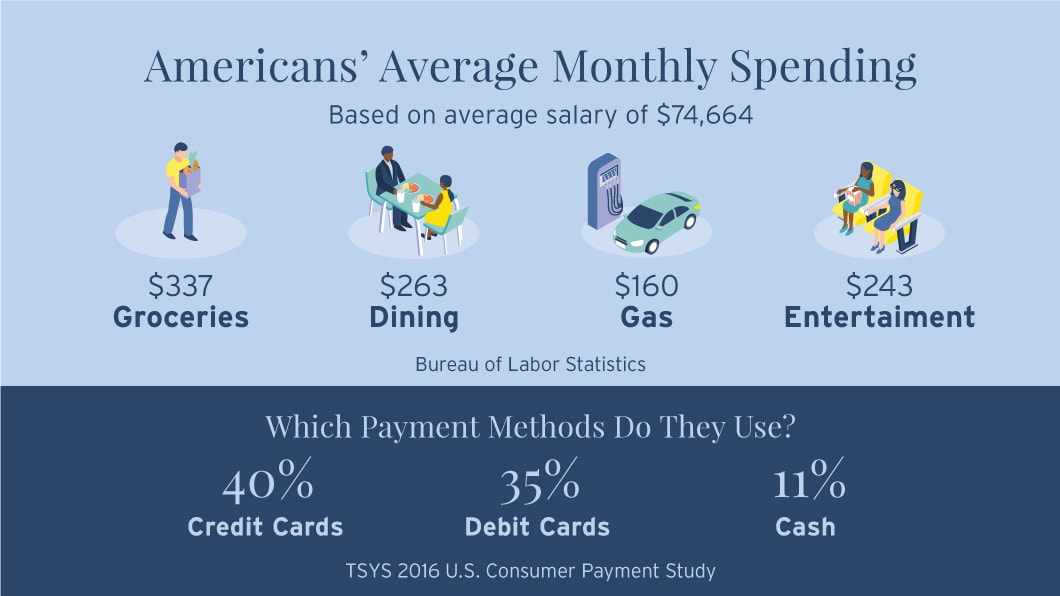 Smart ways to use a rewards card
Align card usage with spending habits
Some rewards cards offer bonus points (like two points for each dollar spent) on purchases in select categories, such as gas stations and supermarkets. Stacy Johnson, CEO of Money Talks News, recommends looking for cards geared toward your buying habits in order to maximize the "something back" you get by spending.
Don't overlook the potential of small charges
According to a 2018 study from CreditCards.Com, 45% of adults with rewards cards pay cash for purchases under $10. According to Johnson, those people may be overlooking a points-earning opportunity. "Don't think you have to buy big expensive items to earn rewards. Everyday purchases can take you there," he says. According to data from the U.S. Bureau of Labor Statistics, daily expenses like food and transportation tend to represent a significant share of Americans' monthly spending.
Connor Borchgrevink, a 22-year-old Dallas, TX-based IT specialist, racks up points by buying little things like a cup of coffee, a tank of gas, groceries and new running shoes with a rewards card. Arielle DiPlacido, 29, a sales manager for a Boston, MA-area real estate developer, has started charging her cable bill to her rewards card – another points-savvy move, according to Johnson. He suggests looking into paying your recurring monthly bills like utility and insurance with a rewards credit card. "Just make sure [utility companies] don't charge a fee for using it," Johnson notes.
Consider carrying more than one card
A survey conducted by Total System Services indicated that 61% of Americans have two or more credit cards. As long as you can pay balances in full each month, it may be beneficial to get more than one rewards credit card for different bonus offerings.
That way you can earn rewards faster across more merchant categories, advises Johnson. "Label the cards to remind you which to use where," he suggests. However, keep in mind that it may take longer to build up points if they are spread across several separate rewards platforms.
Be aware of limits
"Some cards place limits on bonus spending categories," says Kevin Gallegos, senior vice president of Freedom Debt Relief. Once you meet that limit, he says, you'll no longer earn the extra points on purchases in that category. When that happens, he adds, you could consider using another card for those purchases.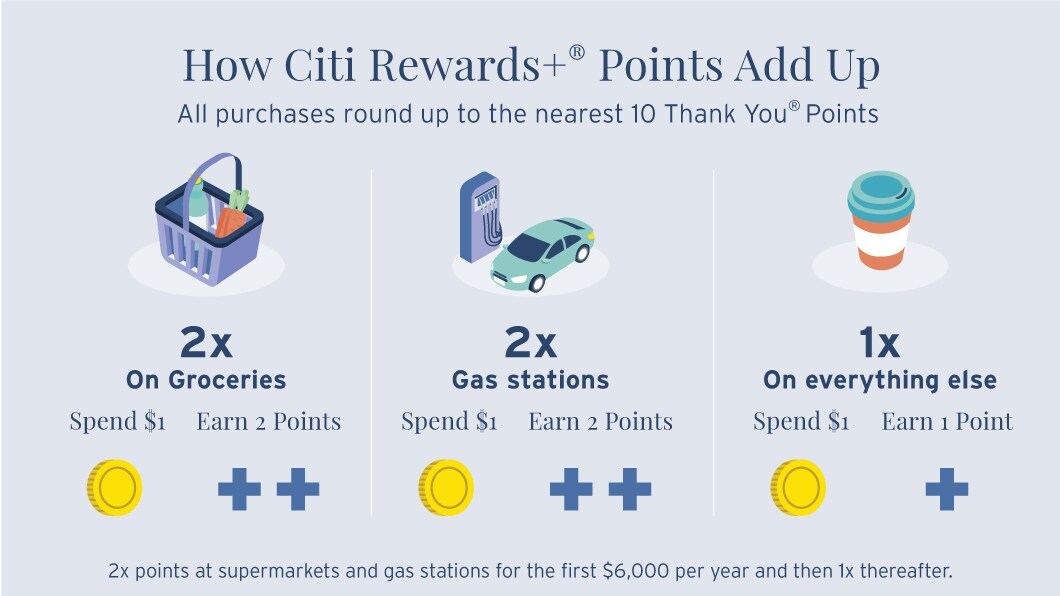 What's new in the rewards card category?
Rounding up points earned on every purchase
Again, with the right card, even those daily, seemingly minor expenses can stack up to big points. In fact, the recently launched Citi Rewards+® Card is designed to do just that. The Citi Rewards+® Card offers 2x points on purchases at supermarkets and gas stations up to $6,000 annually, and 1x points on all other spending.
The Citi Rewards+® Card rounds up points, too. What does that mean? The points you earn on every purchase are rounded up to the nearest 10 ThankYou® points with this exclusive feature. That means a $2 cup of coffee earns not two but 10 points. A $36 fuel fill-up included in the first $6,000 you spend per year at gas stations and supermarkets is eligible for 2x points; but thanks to rounding up, the purchase would actually net you 80 points. This adds extra benefits to the many everyday purchases you make, so you build points without spending more.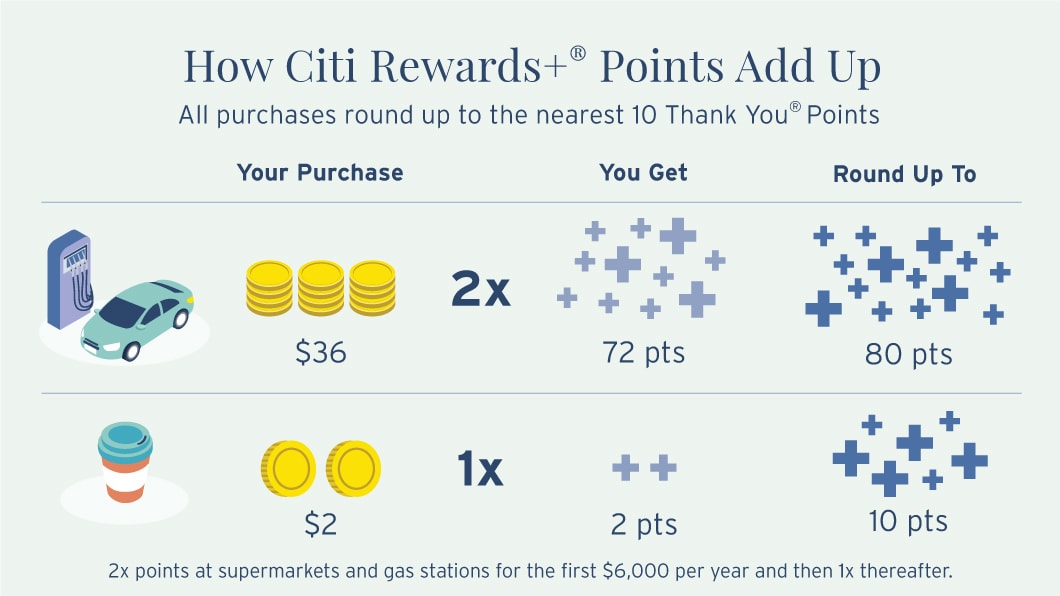 Pro tips for being points-savvy and responsible
Use your rewards card to pay for everyday purchases. They can really add up over time.
Match your rewards card to your biggest areas of spending to maximize benefits. So, if you eat out a lot, go for one that offers perks for dining.
Sign up for automatic payments to help avoid late charges.
Read the fine print of a rewards card. Weigh the costs and benefits. What is the annual fee, and are there other fees? Do points expire? What is the conversion rate if used for air miles? Is there a cap on cash or other benefits you earn in a year?
As with any financial decision: Be responsible. As tempting as those extra points may seem, don't spend in excess just to get them. As long as you pay your bill in full each month, rewards cards are a smart way to earn rewards for everyday spending. So yes, you can get that latte every morning.