A birthday. An anniversary. A blow-out baby shower. It's Thursday and you'd like to raise a glass with your friends.
There are so many reasons to seek out a restaurant where you can reserve a table that will fit your whole crew.
And in this city that is big on everything except square footage, you just need to know where to look. There are plenty of hidden gems in the city that love hosting groups, from swanky cellar spaces to must-visit Korean barbecue dens (complete with karaoke!). Here's where you can go — and, of course, what to order — based on tips from New York City restaurant insiders who are in the big group dining know.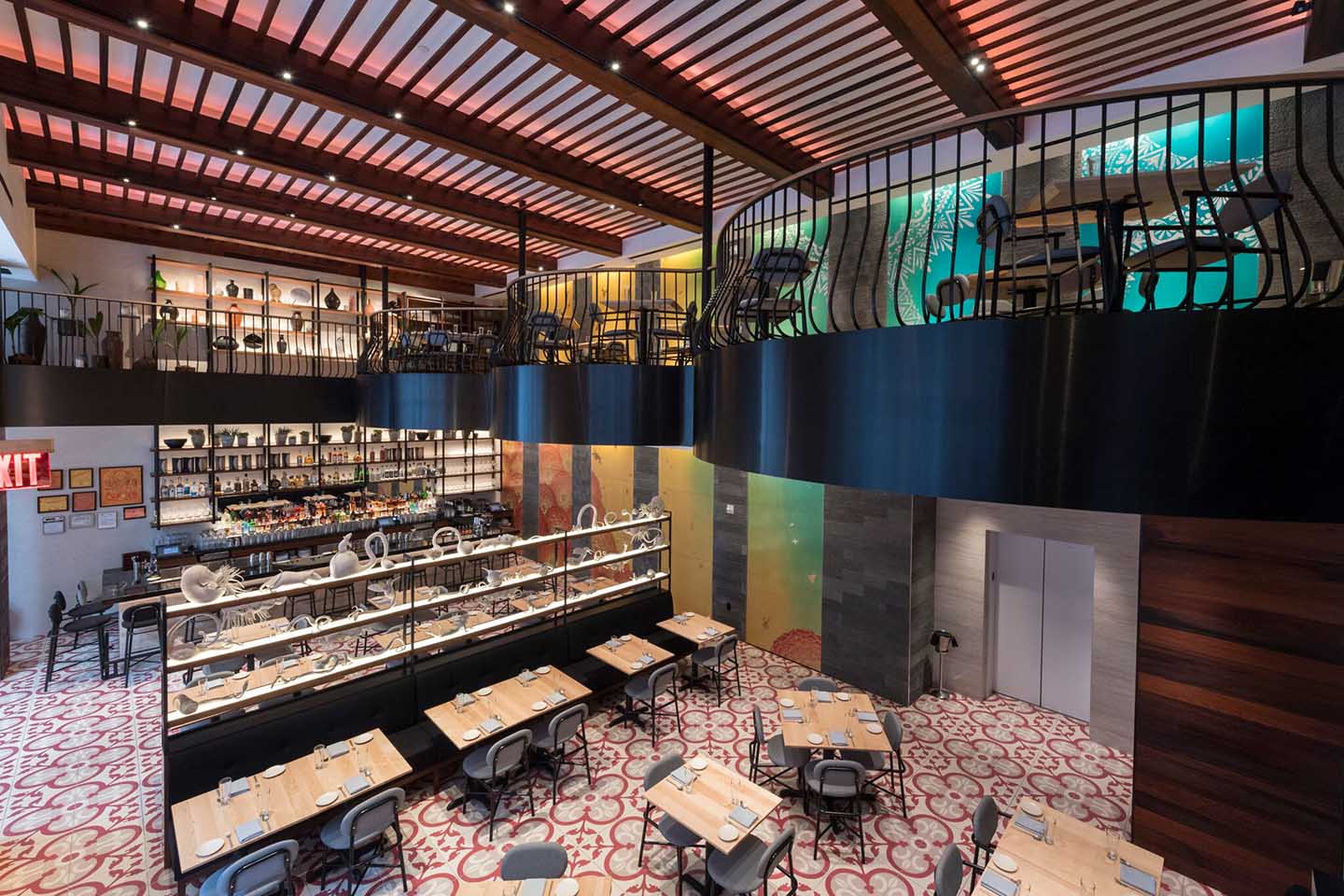 510 Madison Avenue / Midtown
This modern Mexican eatery is designed for a fiesta, with two private rooms (for 10 to 40 people) and the bird's-eye-view mezzanine that corrals three dozen guests. Throw a standing room cocktail party with a taco station or raw bar or opt for an $80-per-person sit-down dinner. Create a customized family-style menu with chef Alex Stupak's signature guacamole and crab nachos with sea urchin queso to start, followed by superb dishes like short rib confit, crisp pork belly and blistered shishito peppers. Inside tip: Order plenty of the avocado parfait for dessert.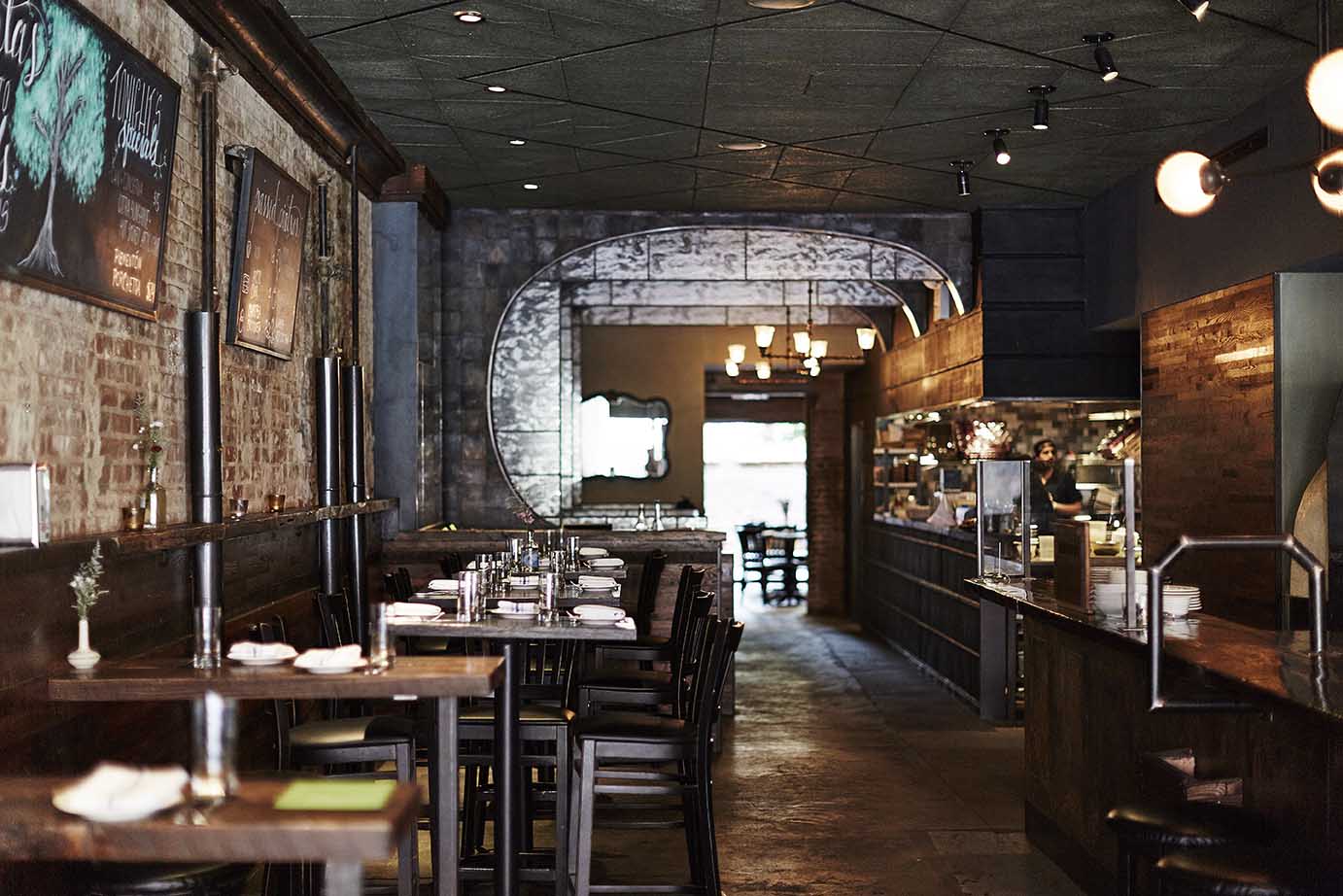 107 1st Avenue / East Village
Sharing among friends is easy at Huertas, a Basque-inspired restaurant with endlessly poppable pintxos (small snacks). Chef and owner Jonah Miller says, "Our dishes are built to be shared — plenty to go around and never too fussy that they're hard to split — so the bigger your crew, the more you can try." Smaller groups can choose from a family-style menu, or Huertas will create special menus for its private room, which holds up to 50 (generous for this neighborhood). Miller says groups devour arroz frito, their answer to paella, or the off-menu "Basque Dog," with house chistorra sausage and piquillo mostarda, a mustard sauce made with sweet peppers. Plus, Huertas is gratuity-free, including tip in the cost of dishes, simplifying the settle-up.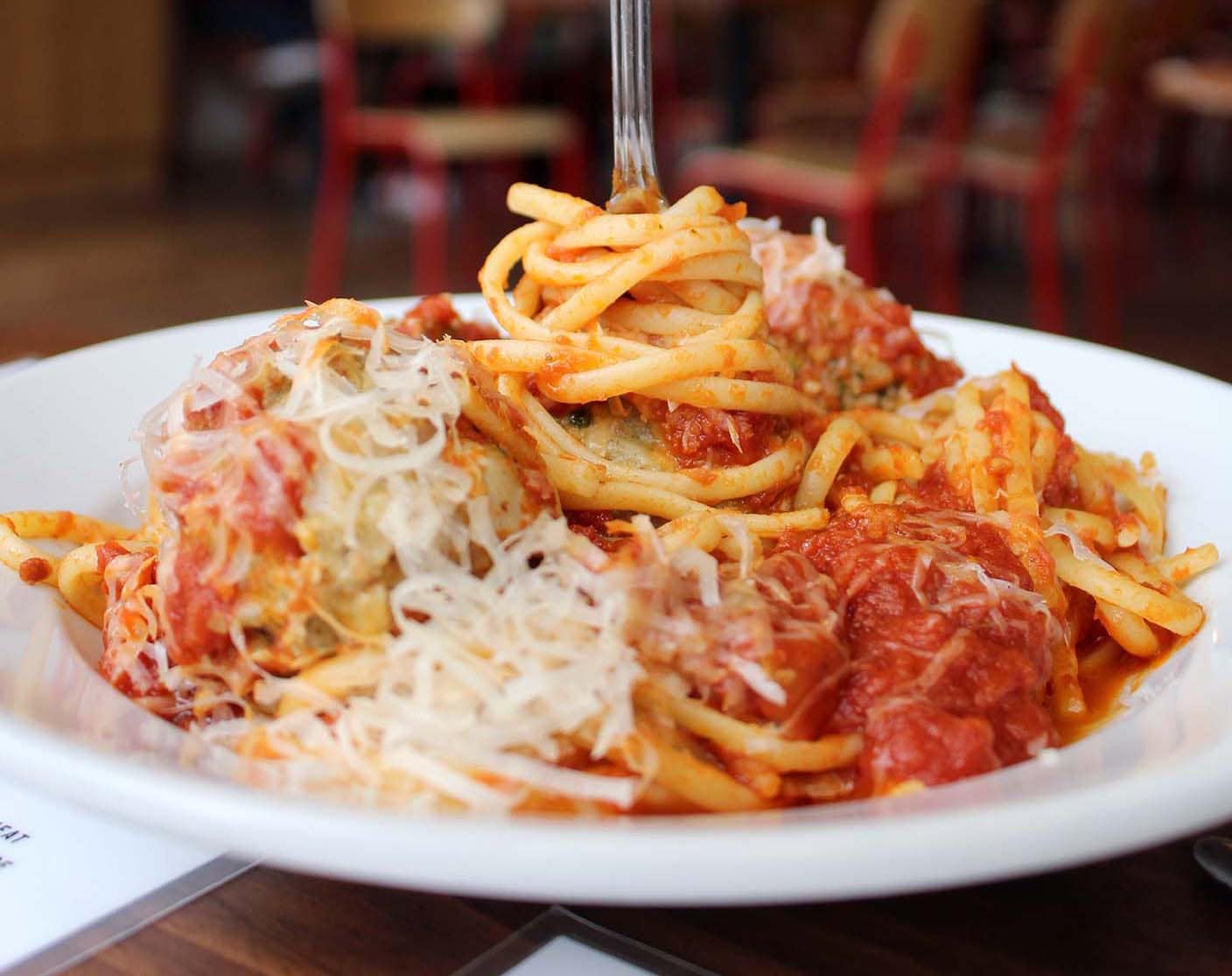 200 9th Avenue / Chelsea
Slip downstairs to the Meatball Shop's basement-level dining room to discover the ultimate speakeasy: a secret space for 30 guests plus some of the city's most satisfying comfort food. The private bar, dedicated waitstaff and mix-and-match, locally sourced menu all make it hard to stay hush-hush about this place.
Packages range from happy hour bites to full family-style meals starting at $25 per person. "Most groups tend to get individual entrees, but split our veggie and pasta sides and our mini Buffalo chicken balls for the table," says Marketing and Events Manager Mitch Dorsey. Just don't forget to save room for the ice cream sandwiches.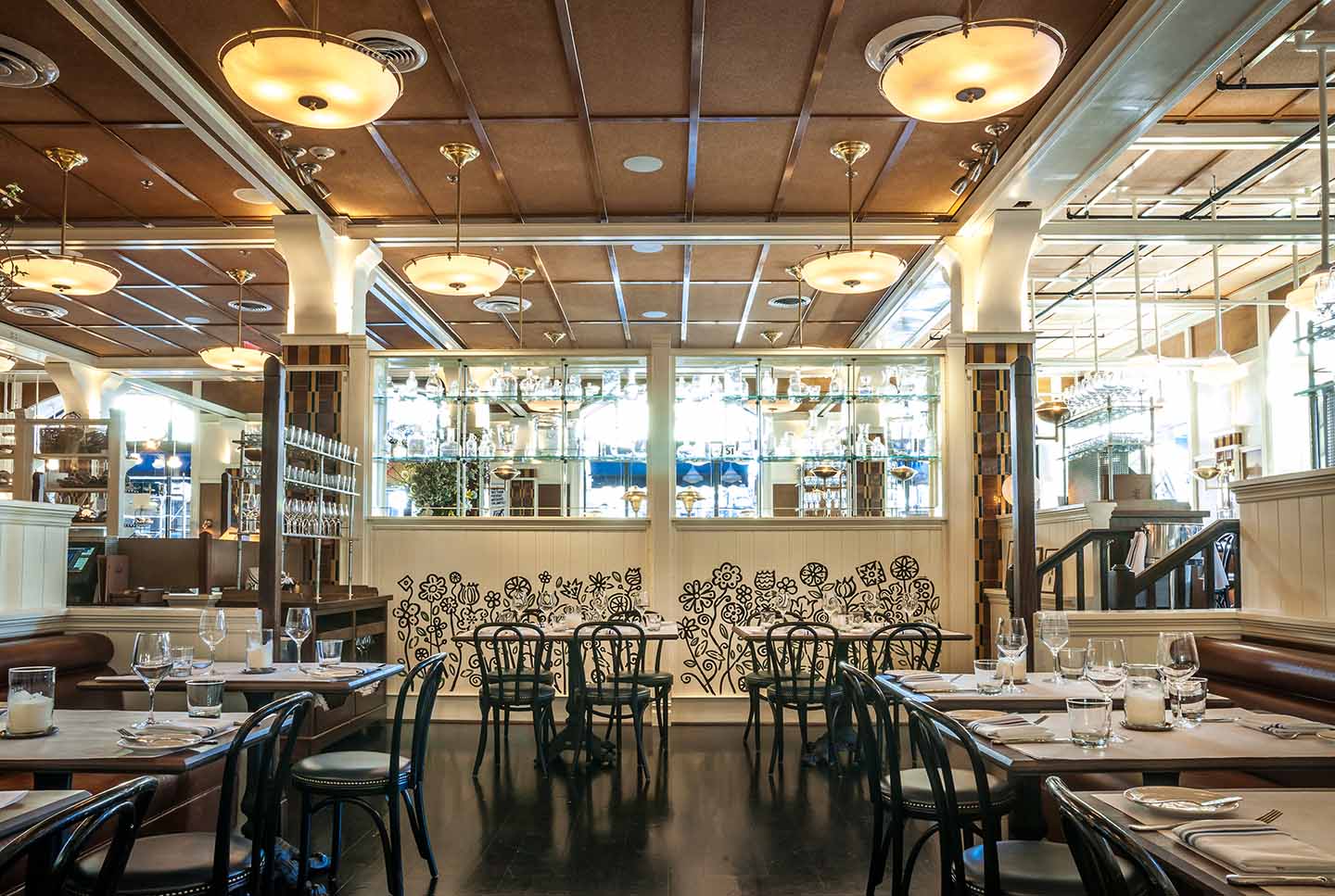 380 Lafayette Street / NoHo
"Grand" is a fitting word for this traditional French brasserie, cafe and bakery. Two private dining rooms seat 10 to 100, and — hooray! — they accept group reservations for weekend brunch. (Make sure someone orders the lemon pancakes.) "From cocktails and passed hors d'oeuvres, to our 'Table du Marché,' to an individually plated sit-down dinner, there's something for every event," says Marie Lyons, Lafayette's director of events. Multi-course family-style menus are popular, with the rigatoni with duck Bolognese and scallops a la plancha drawing raves. Best of all, the on-site bakery stays open late for après dinner sweets to go.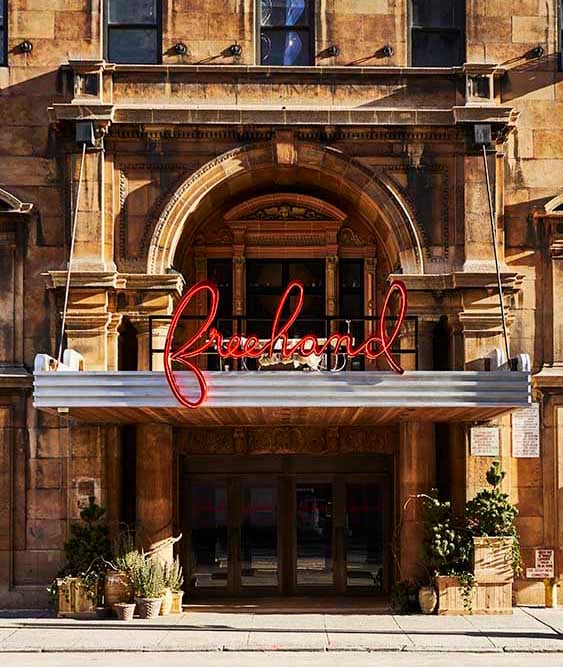 23 Lexington Avenue / Flatiron District
Ready your cameras for Studio — an oasis with giant potted plants and oversized paper lamps — and one of the most photographed spots of the year. Located on the mezzanine of the artsy Freehand Hotel, there are windows aplenty and the creative North African and Near East-inspired menu features perfect-for-sharing plates like lamb kefta in pita and North African seafood stew. Similar to Happy Cooking Hospitality owner Gabriel Stulman's other buzzy restaurants — Bar Sardine and Fedora among them — Studio caters to crowds and is no stranger to planning private events. Which is particularly helpful if you're expecting out-of-town guests, who can also stay right upstairs.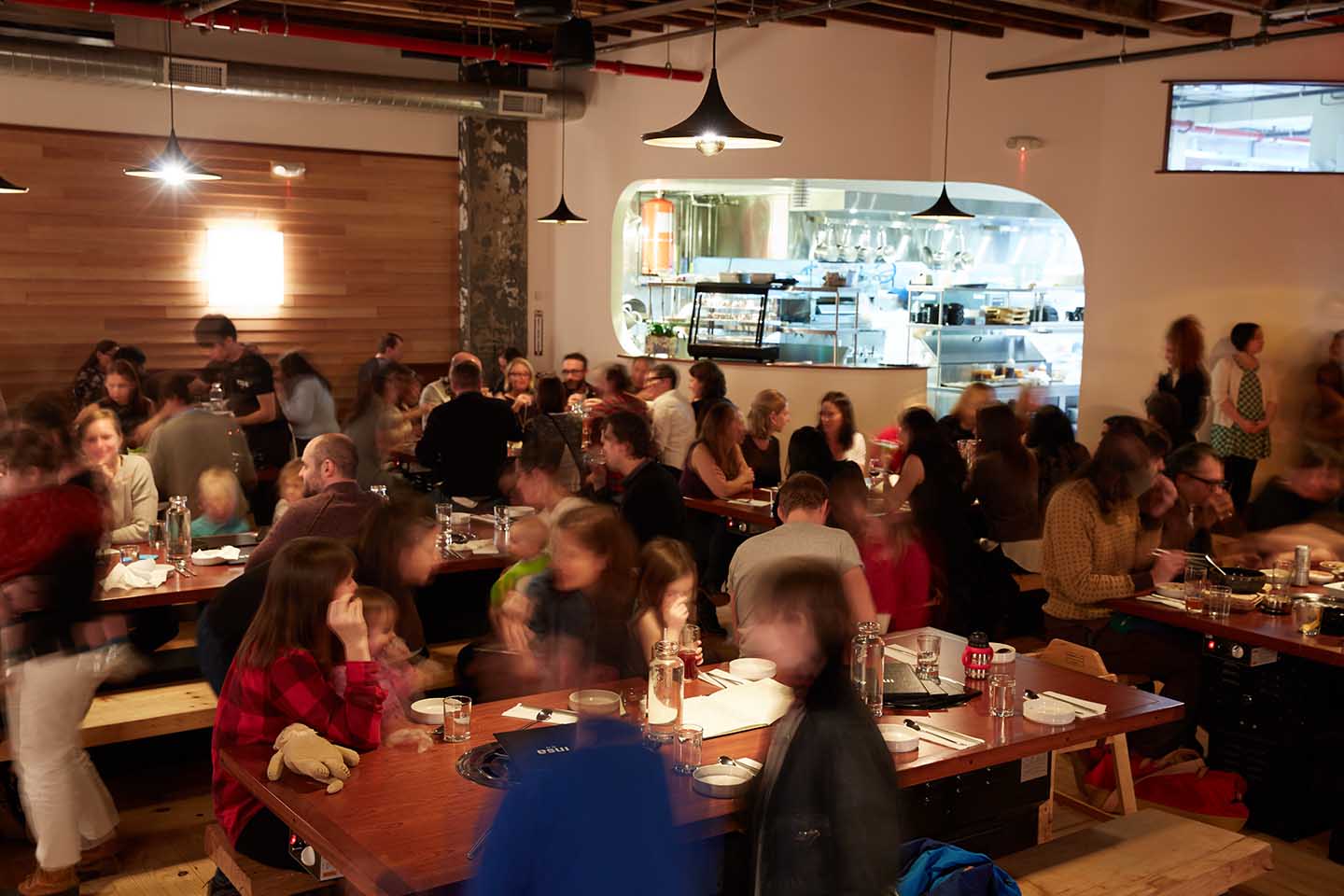 328 Douglass Street / Gowanus
This sleek Brooklyn restaurant slash karaoke venue isn't your typical sing-along joint — the food is top-notch — and best experienced with a group to taste more dishes (and drinks). "Ordering large-format drinks — bottles of soju, magnums of wine, pitchers of beer and [shareable] cocktails — is the fastest and cheapest way to go," says General Manager Jamie Seet. The menu is family-style-friendly, with barbecue crowd favorites like samgyeopsal (thickly sliced pork belly) and yangnyum galbi (marinated beef short rib) cooked by the staff at your table, eliminating work for you. For big groups, Insa accepts walks-in and reservations alike, but private karaoke rooms should be booked in advance — the large room fits 22 people, perfect for belting out post-dinner rock anthems.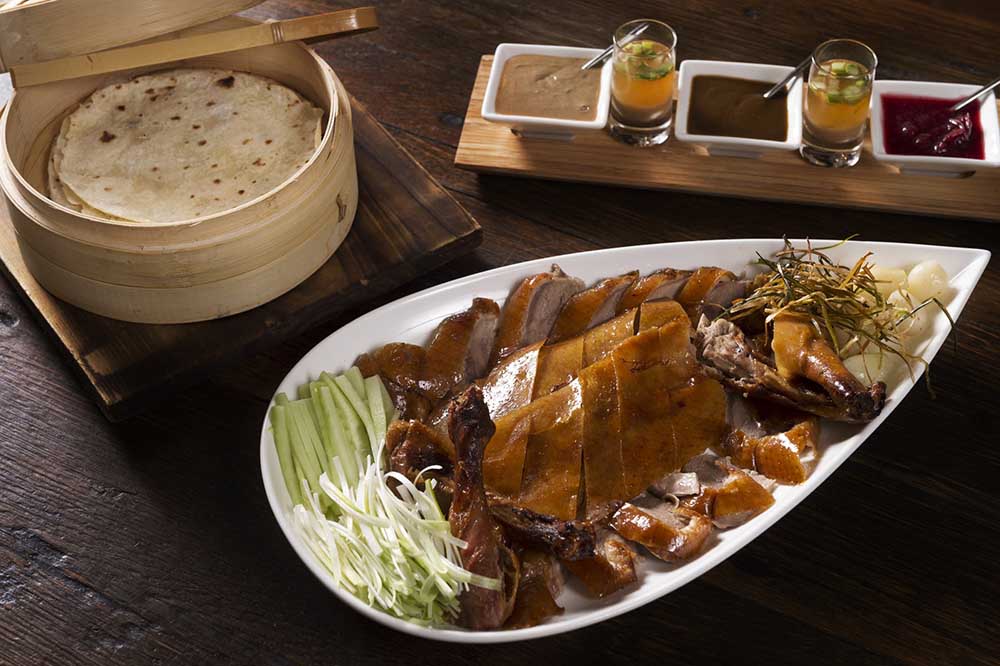 529 1/2 Hudson Street / West Village
Some dishes are best shared, and a Peking duck feast is one of them. This cozy underground haven and sister restaurant to upstairs neighbor RedFarm pays loving tribute to the crispy-skinned delicacy, which is served with wispy- thin pancakes. Communal table seating lends the dining room a friendly vibe. For $75 per person, prix fixe dinners arrive with Peking duck, small plates, mains like grilled pork "toro" with Korean rice cake and sides. Parties of eight or more can embrace an elevated, four-course menu. Be sure to call ahead, though; reservations for the duck are a must.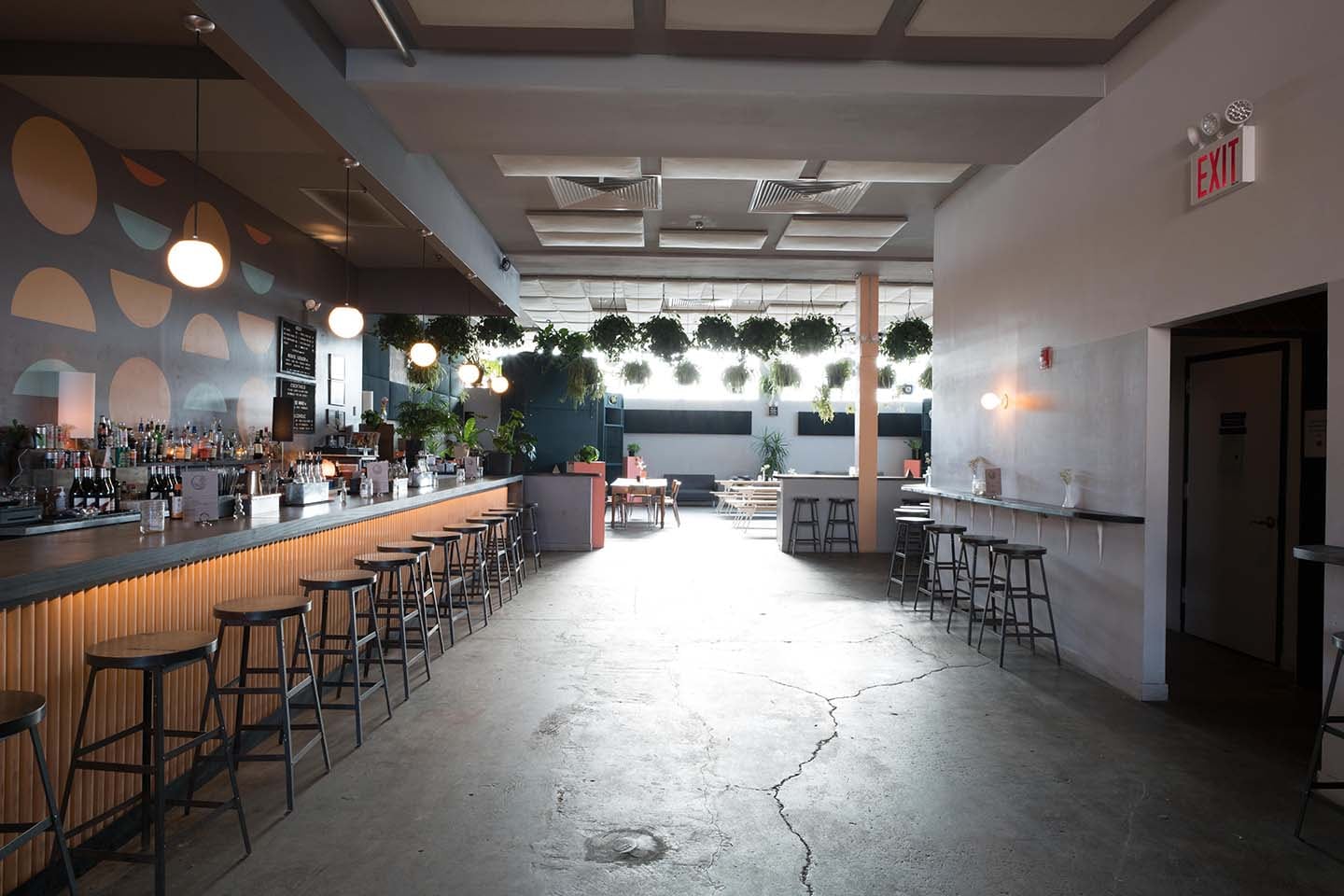 56-06 Cooper Avenue / Ridgewood
Nowadays in Queens has the group dining trifecta: live music, dance floor and outdoor space. Open Thursday through Sunday, Nowadays feels (and tastes) like summer personified with healthy kale, lamb and brown rice basmati bowls, indulgent fried chicken sandwiches and four kinds of fries. Groups larger than five can choose from food packages, and tables can be reserved with a minimum $150 bar guarantee and deposit. Feel free to invite whomever you wish; the sprawling park can seat up to 350.